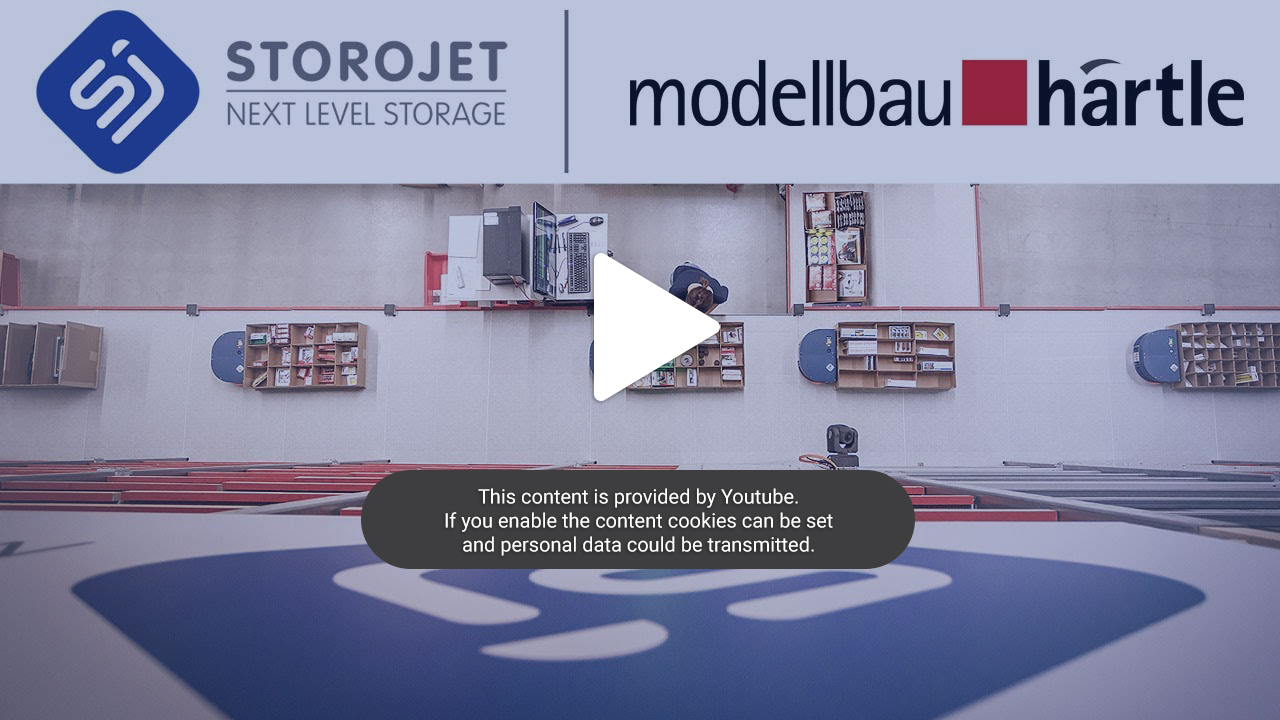 What is STOROJET?
STOROJET is an automatic storage and order picking system Made in Germany.
The extremely flexible and modular racking system connects several levels via lifts and enables compact autonomous storage robots to transport product carriers to picking stations in an energy-efficient manner.
In addition to optimised space utilisation of up to 12 m in height, an unrivalled, low-cost reduction in picking times of between 30 and 80 percent can be achieved without any problems.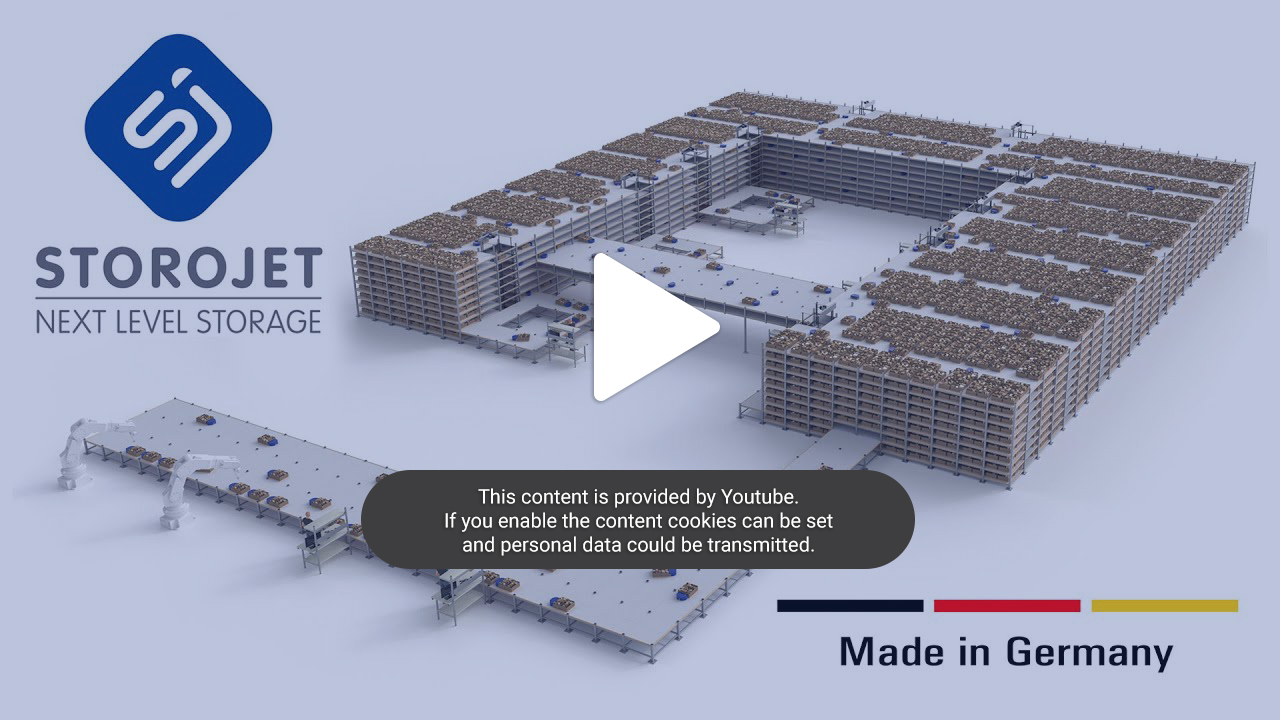 Massive reduction of picking times between 30 and 80 percent
Continuous optimisation of storage areas
Optimised space utilisation in height, area and geometry
Expandable during ongoing operations
Transport of heterogeneous goods
Energy-saving system with low operating costs
Pick-by-light support for order pickers
Individually configurable product carriers
High process reliability of the storage locations
Simple operation, low training expenditure
Inventory at the touch of a button, continuous inventory
Simplified storage of new products or returns
Improved theft protection and documentation
Flexible expandability and adaptability as required
Inexpensive implementation - Made in Germany
Ready for industry 4.0
Technology Made in Germany at an affordable price
The STOROJET automatic storage and order picking system is unrivalled in terms of cost-effectiveness, from procurement through continuous expansion to minimum operating costs. With STOROJET, flexibility and economy enter into an inseparable symbiosis and offer you undreamt-of possibilities at an affordable price and all this Made in Germany
Reduction of picking times
The increased picking performance between 30 and 80% is easily achieved by the automatic storage robots due to their sheer number. Even before the current picking list appears on the order picker's monitor, multiple robots are set in motion in order to maintain an uninterrupted flow of goods-to-people.
Tailor-made picking stations
The picking stations, as well as the entire shelving system, can be individually adapted to the needs of the customer. In addition to simple, directly adjacent stations, it is also possible to equip them, for the order picker, with ergonomic U-shaped loops or a complex branched shape leading through the warehouse to the logistically well-placed picking stations.
Full automation for production
At the picking station, the goods carriers impress with another pioneering feature. They are completely accessible from above and thus offer the best prerequisites to upgrade to automatic manipulators.
Adaptable in area, height and geometry
The up to 12 m high shelving system can be flexibly designed on the basis of the surface area of the shelves (1.6 x 1.2 m). Whether a simple cuboid, a U- or T-shape or impressive customised special designs, there are no limits. The various levels of the shelving system can be adjusted in height from 17 cm to 100 cm depending on the products to be stored.Structure: As required in the area of the base area (W x D) 1.6m x 1.2 m Height: Up to 12 m Shelf spacing: (H) 17 cm to 100 cm
Simplified storage
The storage of new products or returns in the racking system can either take place before the start of the shift, parallel to the current order picking or overnight.
Energy saving system
Thanks to the latest technology and a perfectly balanced ratio between weight and tensile load, STOROJET stands for low operating costs and maximum cost-efficiency.
Pick-by-Light
The Pick-By-Light illumination unit highlights the goods to be removed, on the relative shelf of the product carrier system, with a beam of light allowing them to be picked quickly.
STOROJET RO70 Robot
The robots are not rail-bound and can move freely, being guided on the Navigation Shelf Boards via coding and are coordinated wirelessly by the Central System. The robots are the size of a home robotic lawnmower but are far more powerful and achieve a considerable transport volume.
Size: (W x D x H) 40 x 27.5 x 15 cm
Weight: 15kg
Operating temperature: 10°C-40°C
Maximum tensile load: 27kg
Battery: LiFePo
Duration of use: 8h per battery charge
Charging time: 3h
Communication: Wi-Fi (IEEE 802.1 a/b/g, 2.4 GHz)
Navigation: Fully automatic based on ground markings, coordinated by the central system
Individual goods carriers
The goods carriers, each with a footprint of 50 × 50 to 90 cm (W × D), are stowed closely together and can be customised according to the customer's requirements. From simple storage areas, cardboard boxes with individual compartments all the way to specialised solutions, everything is possible.
Load capacity: 20 kg
Structure: Individually constructed according to the size of the base area.
Prepared for the inventory at the touch of a button
The inventory is started at the push of a button and is, once again, supported by Pick-by-Light. Not only is there a noticeable reduction of the time required but also, seen over the whole year, the high process reliability of the system is particularly marked.
Theft protection and documentation
Thanks to the fixed picking stations, video surveillance of the output points can be installed with little effort and, in addition to improved documentation, increased theft protection can be directly integrated. Depending on the value of the stored goods, the shelving system can also be completely clad in+ any material.
Flexible, expandable and customisable
Due to the modularity of the STOROJET system, the area of the shelves and the number of robots can be extended at any time even during operation.
Efficient lifts
The individual levels of the automated shelving system are connected by fast elevators allowing the small picking robots to quickly switch between the levels.
Optimisation of storage spaces
Depending on customer requirements, STOROJET storage robots can autonomously implement an ongoing optimisation of the storage space and are able to proactively deal with seasonal peaks of specific product groups.
Ready for industry 4.0
Simple interfaces allow rapid integration into existing technology. With STOROJET, the benefits of digitising logistics can be used immediately.
Sustainabilty at Storojet
Planted Trees:
400
Bound Co
2
:
5000 kg
Read more